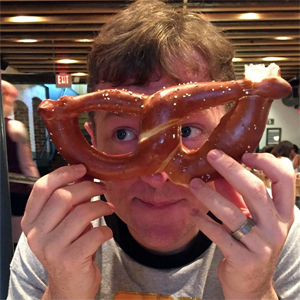 I'm a comedy producer, writer and performer based in Los Angeles, CA.
I'm a member of the iO West house team Elixir which performs every Saturday at 9pm in the Del Close Theater.
You can also catch me every Wednesday at 8pm as a cast member of The Pack Theater's Deconstruction.
I also kick it around the LA area with the indie teams Bill & Dana, and Shallow Grave. I've studied at iO West, Annoyance Chicago, UCB LA, ColdTowne, and The Pack Theater.
Previously you could see find me performing around Austin in such shows as The Beach Boys Solve a Mystery, The Organ Trail, A Fine Affair, Fifty Nifty, and GameTowne. I also played with the teams Joint Custody, One Moment Please and After Midnight.
I'm digital product manager and consultant by trade, but that's only interesting to people who want to give me vast sums of money for my many years of experience and professionalism. But I'm also always interested in learning/experiencing new things so if you're looking for someone with a high EQ who loves to work hard, hit me up.