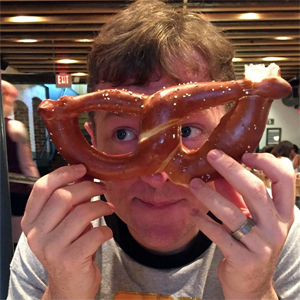 I'm a comedy performer, writer and producer based in Los Angeles, CA.
I perform with Ghost Dog, a long-form improv house team at The Second City Hollywood. I also play with former iO West improv house team Elixir, indie darlings Bill & Dana, and the duo Shallow Grave. I recently completed an eight-month run in The Pack Theater's Deconstruction house team. I'm currently producing Avocaduo Toast – a duos-only comedy show at Moving Arts on the second and fourth Tuesday of every month at 9pm. And when the moon is full, the two duos that host that night come together for form the supergroup, Honey Don't.
I'm a graduate of iO West, UCB LA, and ColdTowne Theater in Austin. I have also studied at Annoyance Chicago, and The Pack Theater.
While in Austin, I produced the short-form/trivia game show, GameTowne for three seasons as well as the Choose Your Own Adventure-style sketch show, Joint Custody presents The Curious Case of the Comic-con Conundrum, A Create Your Own Journey Mystery. Previously you could see find me performing around Austin in such main stage shows as The Beach Boys Solve a Mystery, The Organ Trail, A Fine Affair and Fifty Nifty. I also played with the teams Joint Custody, One Moment Please and After Midnight.