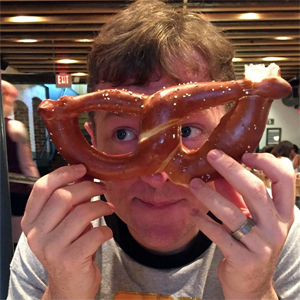 I'm a comedy performer, writer and producer based in Los Angeles, CA.
I'm a member of the Pack Theater improv house team Vicious and The Second City Hollywood's house improv team, Ghost Dog.
I was formerly on the iO West house team, Elixir and The Pack Theater's Deconstruction team.
I'm a graduate of The Second City Hollywood, iO West, Upright Citizens Brigade LA, The Pack Theater and ColdTowne Theater in Austin. I have also studied at Annoyance Chicago.
While in Austin, I produced the short-form/trivia game show, GameTowne for three seasons as well as the Choose Your Own Adventure-style sketch show, Joint Custody presents The Curious Case of the Comic-con Conundrum, A Create Your Own Journey Mystery. Previously you could see find me performing around Austin in such main stage shows as The Beach Boys Solve a Mystery, The Organ Trail, A Fine Affair and Fifty Nifty. I also played with the teams Joint Custody, One Moment Please and After Midnight.