Improv
Performing with Elixir spinoff, Three Men and a Baby, opening for Honeymoon.
Thursday, January 11, 2018
10pm
The Moving Arts Theater
Los Angeles, CA
PAY WHAT YOU CAN
---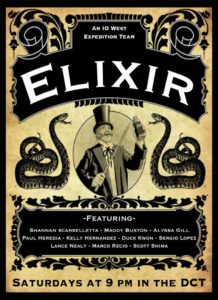 Three Men and a Baby is Marco, Paul, Sergio and Lance from Elixir. Elixir is an iO West House Expedition Team which plays every Saturday at 9pm in the Del Close Theater at iO West. Featuring: Shannan Scarselletta, Maddy Buxton, Alyssa Gill, Paul Heredia, Kelly Hernandez, Duck Kwon, Sergio Lopez, Lance Nealy, Marco Recio and Scott Shima.